Quantum Scalar i40/i80

Bringing iLayer Benefits to Small and Medium-Sized Businesses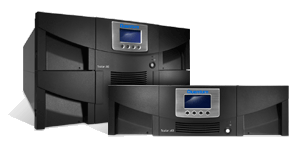 Quantum Products
Quantum Scalar i40 Base Libraries
Click here to jump to more pricing!
Overview:
The Quantum Scalar® i40 and i80 libraries are the easy-to-use tape libraries for the growing storage needs of small and mediumsized businesses, as well as remote office environments of larger enterprises. The Scalar i40 and i80 save time by simplifying everything from initial setup and ongoing management, to adding capacity over time.
The Scalar i40 and i80 include Quantum's iLayer™ software, which provides best-in-class management and monitoring capabilities. iLayer software, shipped in over 50,000 Quantum Scalar libraries, typically reduces library management time by more than 50%. iLayer's easy-to-use interface can reduce business expenses because it does not require a dedicated full-time technical staff member to keep the library up and running smoothly and reliably.
iLayer includes proactive diagnostics, which has been shown to reduce service calls by 50%. Proactive diagnostics provide easy-tounderstand messages with specific corrective actions, allowing users to avoid downtime and spend more time doing other things besides managing the tape environment.
Keeping up with data growth is simplified with the Scalar i40 and i80 tape libraries. The COD (Capacity-on-Demand) scalability feature enables the library's capacity to grow on demand with users' data—without disruption. Start with 25 slots and scale up to 40 slots with Scalar i40 (50 slots up to 80 slots for Scalar i80) as your requirements grow, with a software license only—no hardware to purchase or install—providing market-leading investment protection.
To keep your sensitive data or proprietary corporate intellectual property safe, and to meet the increasing government requirements for compliance, both the Scalar i40 and i80 support the US Federal governmentrecommended encryption standard for the highest levels of security. Tape encryption ensures your data is protected even while being stored offsite.
The Scalar i40 and i80 provide significant benefits over conventional entry-level tape automation products, including better investment protection and less time managing the tape environment. All this, with the confidence of knowing that over 50,000 Scalar libraries with iLayer software have shipped, makes the Scalar i40/i80 the intelligent choice.
Featurs & Benefits
Simplicity - The simplest possible installation, operation and scaling.
Investment Protection - Capacity-on-Demand feature enables easy in-box expansion.
Time Savings - iLayer intelligent management simplifies library management, freeing up valuable time.
Increased Reliability - Industry-leading Reliability Availability Serviceability (RAS) features and proactive monitoring have proven to reduce service calls 50%.
Compliance and Security - Supports government-level security with the highest-level AES 256-Bit Encryption Standard.
Scalar LTFS - Appliance that presents tapes as NAS storage, enabling new ways to manage and access archive files.
Specifications:
Quantum Scaler i40/i80 Specifications
Physical Specifications
Scalar i40
Scalar i80
Base Configuration
With COD License
Base Configuration
With COD License
Active Tape Slots
25
40
50
80
Max. capacity (w/ LTO-6) @ 2.5:1 compression
156.25TB
250TB
312TB
500TB
Max. capacity (w/ LTO-5) @ 2:1 compression
75TB
120TB
150TB
240TB
Max. Capacity (w/ LTO-4) @ 2:1 compression
40TB
64TB
80TB
128TB
Import/Export
0, 5, or 20
0, 5, or 20
0, 5, 10, 20, 25, or 40
0, 5, 10, 20, 25, or 40
Rack Space
3U
6U
Physical Dimensions (H × W × D)
5.2" × 17.5" × 31.2" (13.2cm × 44.6cm × 79.2cm)
10.4" × 17.5" × 31.2" (26.4cm × 44.6cm × 79.2cm)
Weight
45 lbs (20.5 Kg)
66 lbs (30 Kg)
No. of Drives Supported
Up to 2
Up to 5
Barcode Reader
Standard
Remote Management
Standard
Partitioning
LTO-4, LTO-5, and LTO-6
Interface Options
FC (4Gb with LTO-4, 8Gb with LTO-5 and LTO-6) LC connector
SAS (3Gb with LTO-4, 6Gb with LTO-5 and LTO-6) SFF-8088 connector
Network Interface
10/100Mbs Ethernet Port RJ45 Connector
Compliance and Certification
Safety Standards
IEC 60950 with all world-wide country deviations
Emission Standards
Class A of FCC part 15, ICES-003, CISPR 22, EN55022 Class A, VCCI, CNS 13438, KN22, AS/NZS CISPR 22, EN61000-3-2, and EN61000-3-3
Immunity Standards
EN55024, KN24
International Certifications
CE (Europe), VCCI (Japan), GS (Germany), FCC (USA), ICES (Canada), NRTL (USA & Canada), GOST (Russia), BSMI (Taiwan), KCC (Korea)
Environment
Electrical
100-240 VAC, 50-60Hz
Temperature
10 to 35°C operating
Humidity
20 to 80% non-condensing, operating
Reliability
Library MSBF
Greater than 2,000,000
Library MTTR
Less than 30 minutes
Power
Optional 2N power available on i80 models
Diagnostics
Embedded monitoring of major library subsystems, self-diagnostic procedures, and policy-based email and pager alerts to system administrators and Quantum Global Services
Compatibility
The Scalar i40 and i80 have broad compatibility with storage software and hardware components. Consult the most recent Quantum Compatibility Guide on www.quantum.com for a complete list.
Services And Support
StorageCare® Guardian
Delivers proactive monitoring and integrated RAS notification, which sends email alerts to your designated operator for rapid problem resolution.
Warranty
One Year, 5×9 Phone Support with Next Business Day CRU replacement and on-site FRU replacement. Additional service contract upgrade response levels are also available. The Scalar i40 and i80 are customer installable; however, installation and integration services are available.