Quantum QXS Hybrid Storage

Intelligent. Automated. Optimized.

Overview:
StorNext® tape archives provide best-in-class data integrity for long-term data preservation at the lowest possible cost. Integrated with StorNext 5's intelligent policy-based tiering. Provides transparent file system access to all data tiered to tape.
What are StorNext Tape Archives?
When attached to StorNext primary storage and powered by StorNext 5 data management software, tape archives provide a tier of massively scalable storage. StorNext tape archives enable you to preserve data for the long-term without the cost, space, power consumption, and management of primary disk. With StorNext AEL archives and Scalar tape libraries, you get best-in-class management, monitoring, and data security from the market share leader in LTO tape automation. And did we mention that tape is green?
As businesses aim to achieve faster time-to-market and greater customer satisfaction, they look to IT to keep pace by providing a faster, more responsive infrastructure. This challenge is compounded by unrelenting data growth and ongoing pressure on IT budgets. IT leaders recognize that, all too often, storage is the bottleneck in their business. Many of today's storage systems are either all flash—which are fast but are also very expensive—or lack robust data management, effective data protection, and the ability to expand seamlessly.
Real-time, Intelligent Tiering To Optimize Performance
Traditionally, storage system tradeoffs have been between cost, manageability, reliability, and performance. Acquiring a storage system that had the performance needed was very expensive and often very difficult to manage. With less-expensive storage systems, performance was often inadequate and the reliability questionable. Having a storage system that was high performing, highly reliable, easy to manage, and securely expandable while staying within budget was seen as a pipe dream. That is, until now.
Optimal Combination Of Performance, Scale, Flexibility, And Economy
Quantum QXS™ hybrid storage systems' real-time, automatic, intelligent tiering, Q-Tier, enables all-flash-like performance. The QXS Q-Tools provide easy-to-use storage management capability including thin provisioning and caching. With scalable, customizable configurations, QXS storage enables IT to achieve the perfect blend of flash and disk to meet all their requirements with respect to reliability, performance, and cost.
The performance of the QXS arrays exceeded all of our expectations and demands, enabling us to deliver on our '3 minutes to boot, 15 minutes to recover' service level agreement, we call this our ASAP SLA

- Kevin Woodley
Data Centre Manager
Oxford Health Informatics Service
Features & Benefits
Intelligent, real-time tiering
Optimizes your storage investment by ensuring frequently accessed data is in the highest performing storage.
Blazing Speed
Designed for demanding sequential I/O performance, QXS hybrid storage maximizes performance regardless of disk type or configuration.
Designed for reliability, proven 99.999% availability
Ensure your mission-critical applications always have access to data. QXS hybrid storage systems are designed with industry-leading, highreliability specifications and no single point of failure.
Optimizing your budget
QXS provides all-flash performance at a fraction of the cost of an allflash system.
Architecture: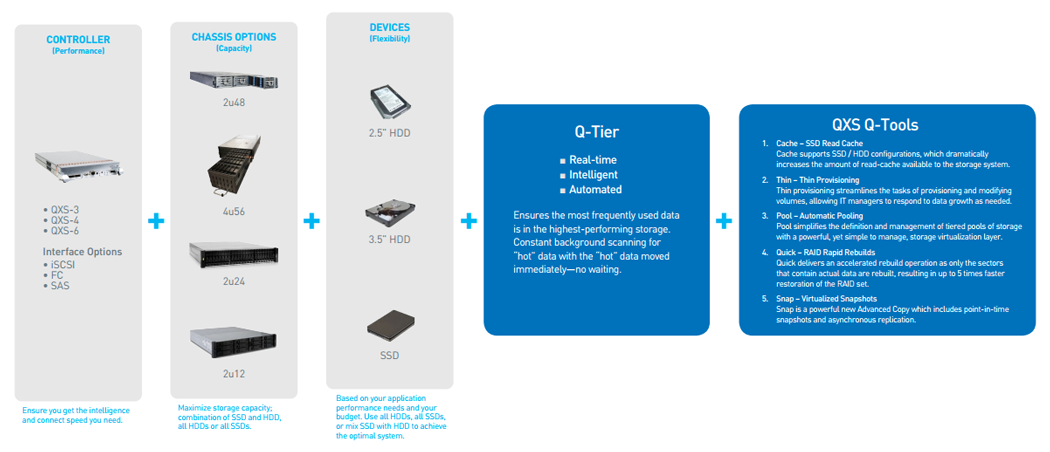 QXS-3 Series
Best-in-class Reliability And High Availability
Dual RAID Controller (Active/Active)
"2 Ports per Controller for maximum value
"Flexible Interface Options (CNC)
"8Gb/16Gb FC or 1/10Gb iSCSI
"Easy to Set Up and Use with the RAIDar 2.0 user interface
"Support HDD and SSD Options
"Available with DC Power
"Scale to 96 Drives (SFF) - 3 Expansion JBODs
"Scales up to 384TB
"NEBS-compliant for Telco
"MIL-STD-810F/G
Form/Fit
2U12, 2U24
Interface options per system

- CNC: 4 x 8Gb/16Gb FC or
- CNC: 4 x 10Gb iSCSI
Performance
40K Read IOPS
3300 MBps Read
2400 MBps Write
Patented Technology
EcoStor™: Battery-free protection
Cache: Low-latency cache mirroring
QXS-4 Series
Best-in-class Price/performance
Increased Bandwidth & 4 ports per controller
" Hybrid Interface with 16G FC & 10G iSCSI
" Future-Proof for next-gen host interconnect
" Data Management Services (DMS) Support
" WIN 2012, SMI-S Support
" Full Drive Encryption Capable
" Scale to 1.9PB
" NEBS-compliant for Telco
" MIL-STD-810F/G
Form/Fit
2U12, 4U56 LFF
2U24, 2U48 SFF
Interface options per system

- CNC: 8 x 4Gb/8Gb/16Gb FC or
- CNC: 8 x 1Gb/10Gb iSCSI or
- 8 x 12Gb SAS or
- CNC Hybrid: 4 x iSCSI + 4 x FC
Performance
100K Read IOPS
6400 MBps Read
5300 MBps Write
Patented Technology
EcoStor™: Battery-free protection
Cache: Low-latency cache mirroring
QXS-6 Series
High Performance
Increased Bandwidth & 4 ports per controller
"Hybrid Interface with 16G FC & 10G iSCSI
"Future-Proof for next-gen host interconnect
"Data Management Services (DMS) Support
"WIN 2012, SMI-S Support
"Full Drive Encryption Capable
"Scale to 1.9PB
"NEBS-compliant for Telco
"MIL-STD-810F/G
Form/Fit
4U56 LFF
2U48 SFF
Interface options per system

- 8 x 12Gb SAS or
- CNC Hybrid: 4 x iSCSI + 4 x FC
Performance
200K Read IOPS
12000 MBps Read
5700 MBps Write
Patented Technology
EcoStor™: Battery-free protection
Cache: Low-latency cache mirroring
Specifications:
2U-12 Drive
2U-24 Drive
2U-48 Drive
4U-56 Drive
QXS-3 Series
Controller Ports
4 FC, iSCSI, or 4-8 SAS Ports
Controller Connectivity
16Gb, 8Gb Fibre Channel
10Gb, 1Gb iSCSI
12Gb SAS
Primary Capacity
96TB
48TB
Expanded Capacity
384TB
192TB
Read Performance
3.3GB/s Read
Write Performance
2.4GB/s Write
Supported Drive Sizes
3.5"
2.5"
Supported Drive Types
SSD, SAS 10K RPM, 15K RPM, and Nearline Drives
Mix SSD & HDD
Yes
QXS-4 Series
Controller Ports
8 FC, SAS, or iSCSI Ports
Controller Connectivity
16Gb, 8Gb, 4Gb Fibre Channel
10Gb, 1Gb iSCSI
12Gb SAS
CNC Hybrid: 4 x iSCSI + 4 x FC
Primary Capacity
96TB
48TB
96TB
448TB
Expanded Capacity
768TB
384TB
384TB
1.9PB
Read Performance
6.4GB/s Read
Write Performance
5.3GB/s Write
Supported Drive Sizes
3.5"
2.5"
3.5"
Supported Drive Types
SSD, SAS 10K RPM, 15K RPM, and Nearline Drives
Mix SSD & HDD
Yes
QXS-6 Series
Controller Ports
8 SAS
8 SAS
Controller Connectivity
12Gb SAS
12Gb SAS
Primary Capacity
96TB
448TB
Expanded Capacity
384TB
1.9PB
Read Performance
12GB/s Read
Write Performance
5.7GB/s Write
Supported Drive Sizes
2.5"
3.5"
Supported Drive Types
SSD, SAS
Mix SSD & HDD
Yes